Baby jewelry is not just for the rich and famous anymore and now that your little princess has arrived, it's quite affordable to adorn her as the little royal she is!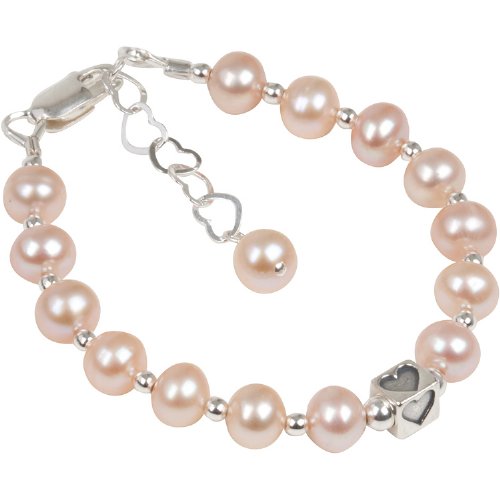 Today, there are many choices for your little one but always keep in mind two things when making your jewelry purchases for children: The first is safety and the second is the "keepsake factor" – will she come to love and treasure this gift from you and perhaps pass it down to her own children in the future.
Let's address safety first. Finding that adorable little accessory to go with your newborn's or baby's outfit is easy but please keep these things in mind before you make your purchase:
Purchasing that right piece of keepsake jewelry that she'll treasure all her life is also a great gift idea for her Christening, Baby Naming, birthday or just because she's your little angel.
At Baby Bling Street we feature a nice selection of sterling silver and fresh water pearl bracelets with crosses or Star of David. All are affordably priced and feature one-inch extenders.
Birthstones are also a very popular gift and we feature a collection of most popular stones such as January's garnet, February's amethyst, June's pearl, August's peridot and more. Our collection of birthstone necklaces are on sale for 50% off!
And what could be more of a keepsake than baby's first pearls. Whether a pearl bracelet, pair of earrings, or necklace, she'll adore them forever.
Whatever you choose, remember to keep an eye on your child when she's wearing jewelry as a baby, stay away from metals and go with pure .925 sterling silver or 14K gold, some crystals contain lead and should not be worn by children under 10 years old. All of our crystals are lead-free in the jewelry we present.
Until your little princess starts asking for diamonds, which will be soon enough… we're sure you'll find something equally beautiful to get her started at a more affordable price point at Baby Bling Street.