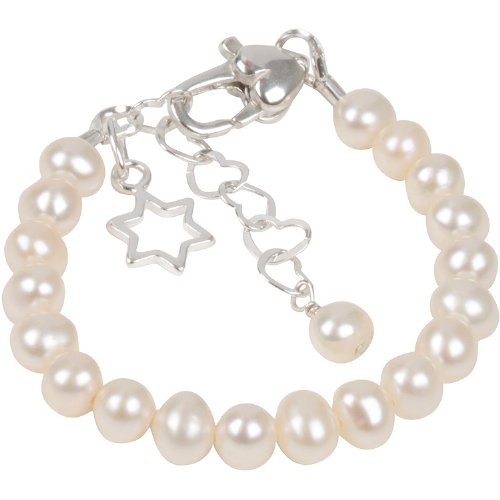 When it comes to baby showers, it can be hard to come up with a gift that is meaningful, and that lasts a lifetime.  Practical gifts, such as diapers, onesies and bibs are important and can become expensive so they're great gifts to help a growing family. But, something that a new mom would not purchase for her baby is always a great idea.
That's why a new trend in baby shower gifts is giving Baby jewelry.
Baby jewelry is a very special gift. Even when your baby grows up, long after she's too big to wear her baby jewelry, it will be something that she treasures for a lifetime.  She'll keep it safe in her jewelry boxlooking forward to the day when she will be able to pass it on to a daughter of her very own.
When purchasing baby children's jewelry for your child or a gift, always follow safety guidelines.  They look so absolutely adorable with a little pearl bracelet on those tiny wrists or earrings on dainty lobes…just make sure all materials are lead and nickel free.   Wait a few months before you pierce your baby's ears' as you don't want to risk an infection on a newborn.  And, try to purchase studs with a secure back and short post. Wait until she's a toddler for hoops as they can get stuck in baby's tiny fingers and pull down on the lobe causing injury.  We also recommend that necklaces not be purchased for newborns but for an older child.  You don't want the necklace to be too tight as it can be a choking hazard.  Again, better wait for when she's a bit older.  Keep in mind a little common sense goes a long way – always remove jewelry before naptime and bedtme and never let a baby wear jewelry unsupervised.
When considering a baby bracelet, look for bracelets that have a 1-inch extender. Jewelry maker Babs Tilly, sold exclusively at Baby Bling Street, produces a series of bracelets with extender chains. These chains allow you to extend the size of a bracelet so that the baby can keep wearing it even when they become a toddler.
A lovely piece of baby jewelry is a tremendous expression of caring and love, and one she will cherish forever.
If you're thinking of purchasing a keepsake treasure for a baby gift, visit Baby Bling Street and look into the Babs Tilly Jewelry Collection for Baby and Toddlers. It may just be the perfect choice!
Related Blog Posts | New Mom Survival Tips
Check out our new mom survival tips blog series and keep checking back for more great content on our blog.