When someone you know is expecting, it's hard not to "ooh" and "aw" over all the wonderful items that will help parents prepare for the little one's arrival. You can be both practical and adorable, and it's all fun! But it can be stressful figuring out what size baby clothes to buy for a gift. Relax. We've got you (and baby!) covered.
A Quick Guide to Baby Clothing Sizes
They all look tiny! But 0-3 months is a lot different than 3-6 months. To gift baby shirts, tops, tees, shorts, pants, dresses and more in sizes that will be most helpful:
Size Up: Babies grow like weeds (beautiful, precious weeds!). Many 6-month-old babies, for example, can wear sizes 9-12 months. It never hurts to give a bigger size. Even if baby is smaller or "average" in terms of height and weight, it is great to have clothing for the next stage of growth.
Think of the Season: Baby is born in summer… she'll have a ton of cute onesies and rompers for the first three months. But what happens when the temperatures get cooler? Plan ahead. If she'll be six months old in winter, buy winter gear she can fit into when the weather outside is frightful. 
Don't Be Afraid of Hand-Me-Downs: You may not consider it a "gift" – but parents do! If you have gently worn clothes from your baby, or you scored some excellent deals from a consignment shop, wash them in baby-friendly detergent and drop them off. Add a disclaimer to help out parents of a new baby: "I'll take everything you don't want and donate it." Chances are, though, your items will be appreciated – and worn again and again! (And, hopefully, passed on to other lucky babies!)
Mix In Some Designer Duds: You can maximize your gift budget by buying some simple wardrobe basics and adding a few great couture pieces. Take this gorgeous Haute Baby "Cranberry Rose" Newborn Girls Take-Me-Home Gown, for instance: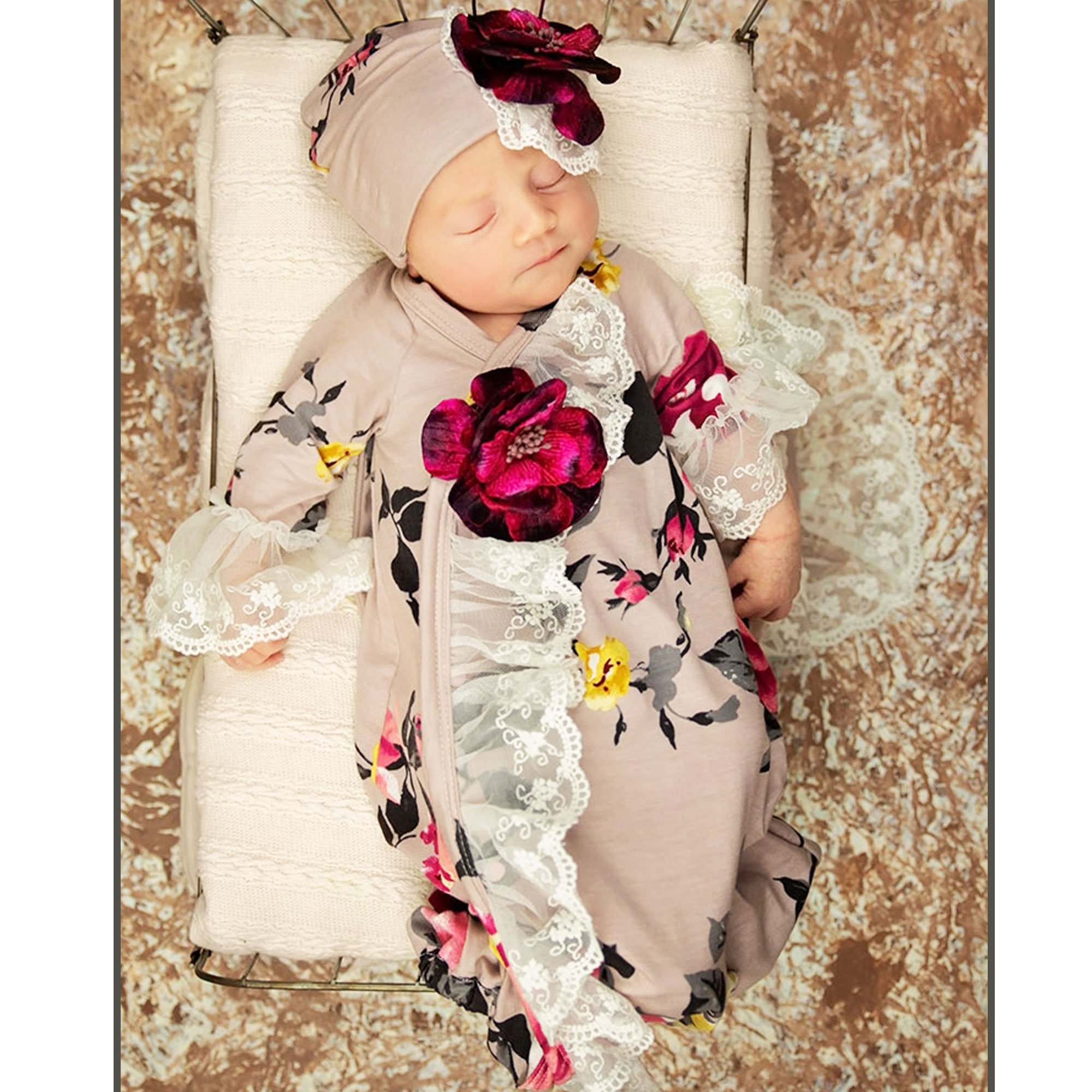 In Conclusion: What Size Baby Clothes to Buy for a Gift
When it comes to baby clothing sizes, it's generally recommended to buy a few months – several months – in advance to give parents a variety of clothing options as their baby grows.
At Baby Bling Street, we have a wide selection of baby dresses, onesies, rompers, footies, and other adorable clothes available in a variety of sizes. Browse our online shop, ooh, aw, and dress that little one to the nines!