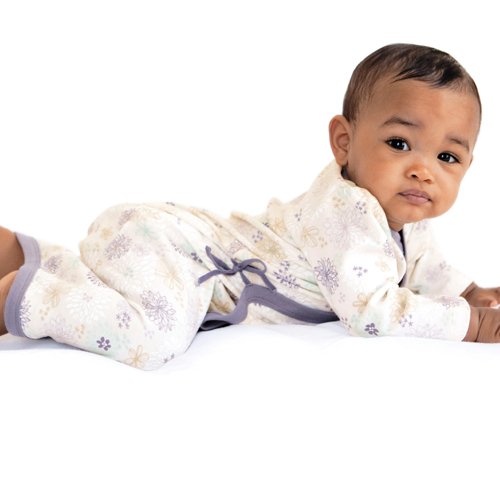 Have you ever thought about why mothers are becoming more and more interested in dressing their newborns and babies in clothing that is made with organic cotton? The organic baby clothing segment is growing and it's important to understand why this is important for you and your baby.
First, your baby's skin is extremely sensitive compared to older children and adults. Non-organic cotton fibers are treated in the fields with pesticides and other harsh chemicals that can affect your baby's respiratory system as well as irritate their delicate skin. A single t-shirt can be treated and produced with an array of chemicals including pesticides, chlorine bleach, formaldehyde, ammonia and other irritants. And, of course, these chemicals have a negative impact on the environment as well.
Secondly, organic farmers use crop rotation and other sophisticated agri-techniques instead of toxic chemicals and fertilizers. The soil must be free of toxins for at least three years! And, in the manufacturing process, organically grown cotton does not get treated with caustic bleach and dyes.
With the option of organically grown cotton, you can understand why this is a growing preference. However, there is a premium cost associated with purchasing organic baby clothes, but isn't it worth it for the comfort of your baby and peace of mind for you?
The best organic baby clothing brands adhere to GOTS (Global Organic Textile Standards) practices and will let you know that their components such as snaps and buttons are lead-free, phthalate free, etc.
One of those brands is Finn+Emma. They have the best organic newborn gowns for babies 0-3 months old. Deliciously soft and cuddly, their newborn gowns and matching hats will keep your baby warm and comfortable. Their attention to detail in all of their designs includes lead and nickel-free snap closures. We just love Finn+Emma newborn gowns and hats as they make the perfect "Take Me Home" outfit baby shower gift! Their rompers and onesies for baby boys and girls are equally adorable and feature the same quality as the newborn gowns.
Another one of our favorite organic baby clothing brands is Kiwi Industries. And, what makes Kiwi so special is that all their garments are made in the USA of 100% organically certified cotton. Their sweaters, hats, and gloves are made in a women's cooperative in Peru, but all feature organically grown cotton and have been made with organic vegetable dyes. Kiwi Industries' great organic onesies and rompers for your little girls or boys feature many of the Sesame Street characters as well as their own designs we're sure you will love as well. We just adore their Elmo hand knit sweaters because they are perfect for cool fall or spring days. The Telly Monster and Count von Count onesies are also popular among mothers and their little ones.
It's nice to know that today you have so many options in selecting what's best for your child. Shop our Summer Clearance Sale at Baby Bling Street. We have organic clothing from Finn+Emma and Kiwi Industries on sale now at great savings. You can pick up these wonderful organic baby clothes for a lot less than conventionally made cotton garments. And, by doing so, not only will baby be happy, but the environment as well!