I often wonder why "Take Me Home" sets have gained so much in popularity. I know that when I was born in the pre-cell phone and pre-YouTube era, a plain white drawstring gown was enough.
But today, I've come to realize, the growth in popularity has to do with how we document everything we do from life's special blessings to what we eat in restaurants! And bringing home baby is no different. After all, cell phones will be poised as you walk through the door with your bundle of joy, like the paparazzi waiting for an A-list celeb, to document this long awaited arrival.
At Baby Bling Street, we feature a wide range of "Take Me Home" outfits from some of the best baby brands such as Baby Steps, Cachcach, Haute Baby, Finn+Emma, Katie Rose and others.
If you're looking for a "Take Me Home" set as a baby shower gift or to purchase one yourself for your baby, here are some of our favorites: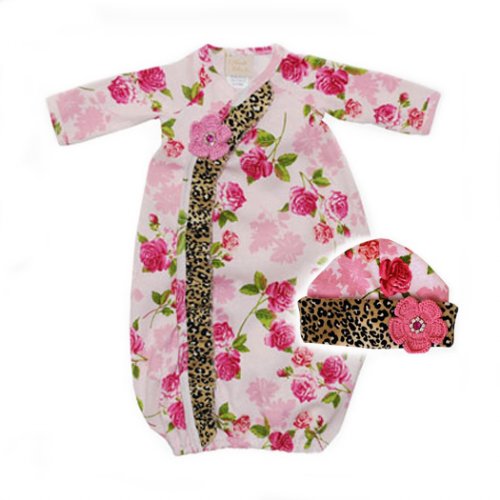 1) Haute Baby Amy's Garden is our most popular "Take Me Home" set. We keep this set in stock all year. The floral gown combined with the cheetah animal print ruffle and the crocheted flower with jeweled center provides just the right amount of bling for your little girl. This set starts her off on the right path of becoming a little fashionista! The matching flap hat with same floral blingy accessory completes the set along with the blanket. This set is all 100% cotton for baby's comfort. This set fits babies 0-3 months so she can wear for several months on all those special outings.
Haute Baby Amy's Garden Take Me Home Set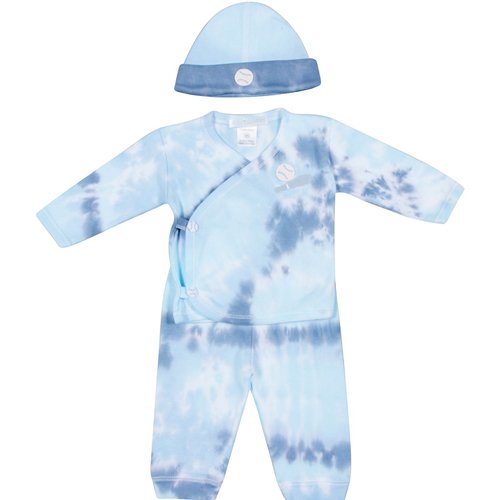 2) We are happy to announce we are now carrying the Baby Steps line of tie-dyed infant wear for newborns to 3 month olds. These are the most precious kimono-style tops with legging bottoms, matching hats and blankets for baby boys and baby girls. The boy sets feature a baseball theme or truck theme, and the girls feature sparkling hearts. All made of 100% cotton and made in Israel.
Baby Steps William Take Me Home Set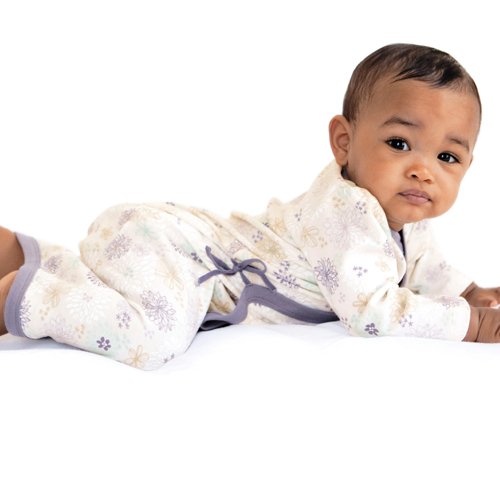 3) If you're interested in organic clothing for your newborn baby, Finn+Emma is one of the more popular brands today that offers the softest organic cotton combined with lovely patterns using organic dyes as well. We carry newborn gowns and hats for girls as well as onesie and romper sets with hats for baby boys.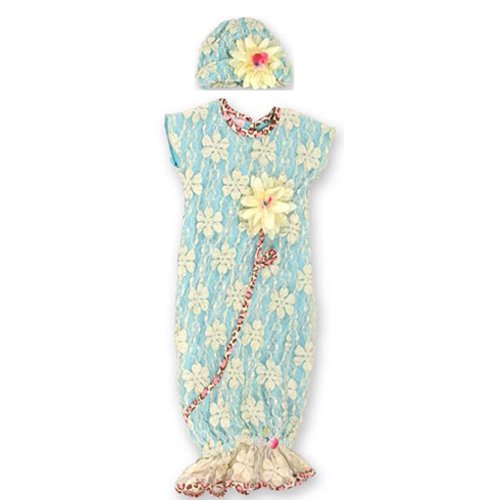 4) We fell in love with Cachcach's Nashville Star "Take Me Home" set in soft blue. We've come to find that many moms like other colors besides pink for their little girls and this blue is a sure winner. The Nashville Star newborn gown features a cream colored lace over a blue underlining and features a gathered hem. And for a little added drama, it is trimmed in a pink and brown animal print.
CachCach Nashville Take Me Home Set
The baby's comfort is always the priority, so we look at outfits that are made of 100% cotton, have drawstring hems on the gowns to keep those tiny toes cozy and have caps to keep them warm.
One day your baby will look back on the precious first photos you took at the hospital and at home and know you got it right. And, perhaps pass down their "Take Me Home" outfit to their own child.
To view the collection, visit our "Take Me Home" Outfits under our category Baby and Toddler Fashion.